#ai  #artintelligency  #digitalwashboard #machinelearning #art #mediaart #newmedia  #generativeart #creativeart #interactiveart #soundsculpture #soundsynthesis #newaesthetic #digitalart #digitalartist #interactivity #technology #interactive #creativecode #creativecodeart #creativecoding
Alone in front of oneself ?
This artwork can replaces you, it echoes your senses, your own expression, your reserve or your impulsiveness.
Since 2009 Digital Washboard increase its capabilites.
This brilliant interactive work refocuses on your own perceptions and beyond the game questions your relentless duality.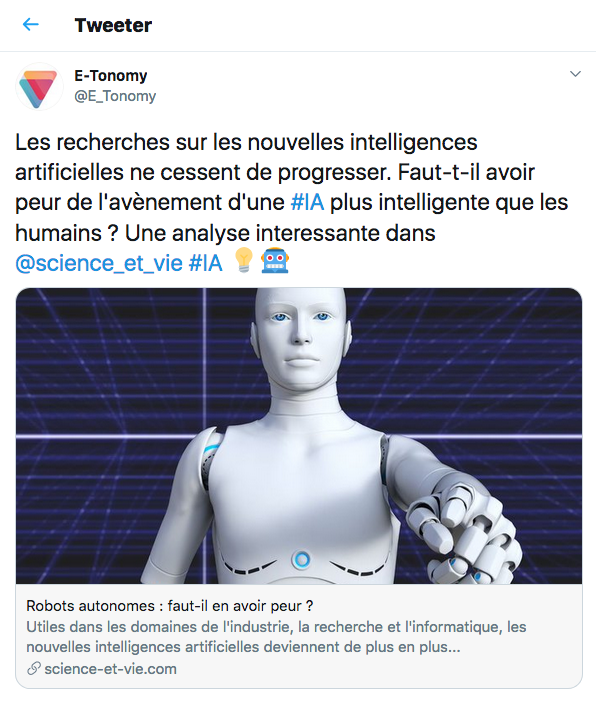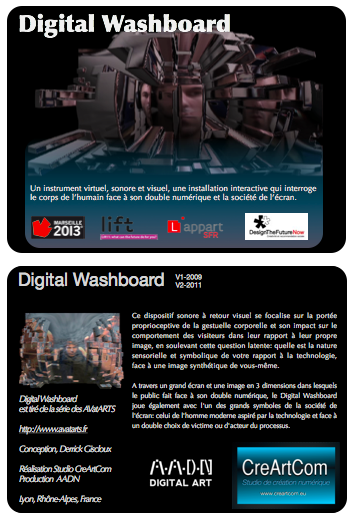 Festival Pleiades, Saint-Etienne (FR)
Novembre 2019
La Belle Electrique, scène de musique actuelle,
colloque nouvelles technologies / société Siemens, Grenoble (FR)
Septembre 2017
Festival Micromusic, Cité de la musique de Romans-sur-Isère (FR)
Novembre 2015
le Zoom, scène conventionnée de Bourg-en-Bresse (FR)
Mai 2014
Espace Culture Multimédia de Saint Quentin-Fallavier (FR)
Mars 2012
ACM multimedia conferences, Arizona (USA)
Novembre 2011
Festival Pluto, Ghent (Belgique)
Novembre 2011
Open World Forum, Hotel George V, Paris (FR)
Septembre 2011
The Creators Project, web page!
Août 2011
Palais du Pharo, LIFT  international conferences / La FING, Marseille (FR)
Juillet 2011
Festival Désert Numérique (FR)
Juillet 2011
Appart' SFR, showroom Paris (FR)
Juin 2011
Clôture des assises du Numérique en Région Rhône-alpes (FR)
Mars 2011
siggraPh France, meeting by  Imaginove Center (FR)
Décembre 2010
Les Grands Ecrans du Numérique, AADN-productions Lyon (FR)
Avril 2010
FR3 TV show
Avril 2010
Festival Electrochoc 5 (FR)
Du 31 mars au 17 avril 2010
Ignite Conferences, Lyon Lumière University (FR)
Mars 2010
Agence d'Urbanisme du Grand Lyon, colloque « Ville et Numérique, nouveaux usages, nouveaux visages »  (FR) Juin 2009
Maison de la Culture «Sans Souci» Lyon (FR)
Mars 2009
Set up is based on a projection surface, a beamer, a kinect, led light spots , a computer, a ST sound system.
The kinect captures the movement and uses the data to trig synthetic sounds and distort a three-dimensional image.
Filtering controls and various sound effects are available according to the gestures and movements of the public.
The Digital Washboard is a hyper-instrument, at the edge of sound design and interactive art.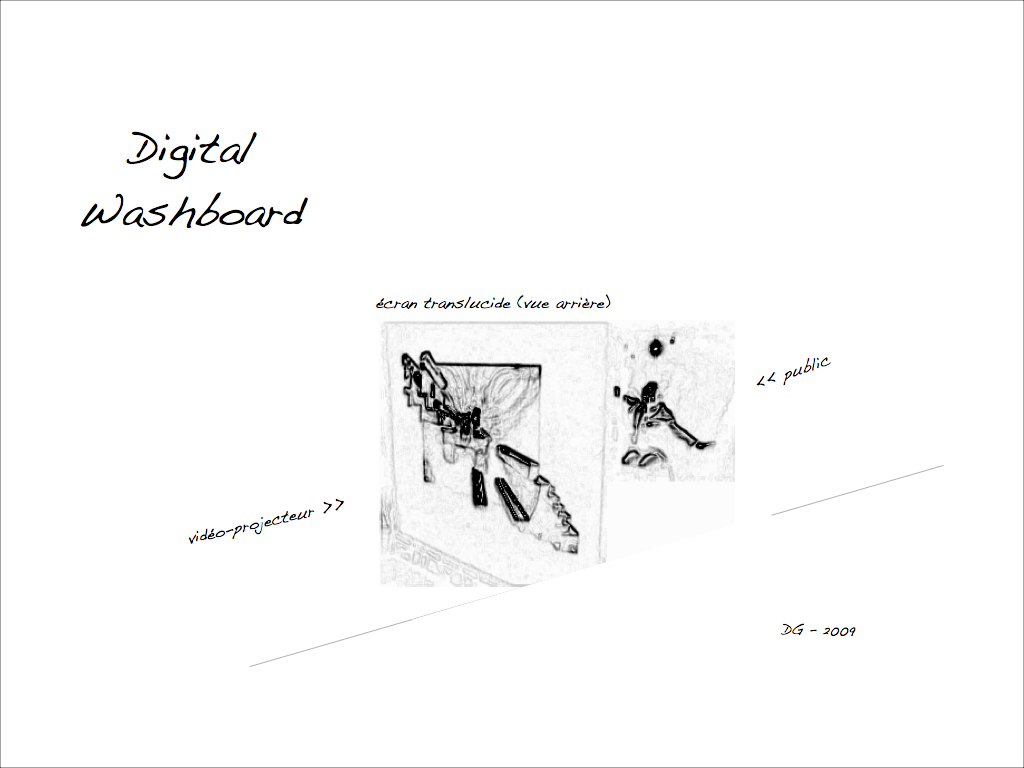 Derrick creates artworks that sublimate the heritage and transcend the visitor, allowing a new eye, between the past and the future.